Interplay
All are welcome to come and play!
InterPlay is an embodied, creative arts practice that unlocks the wisdom of the body. 
Sing, dance, tell stories, be still, witness, be witnessed, play.
Any-body can do it. It is easeful, incremental, holistic. 
And, it's fun!
The last event held at Brunswick Heads was: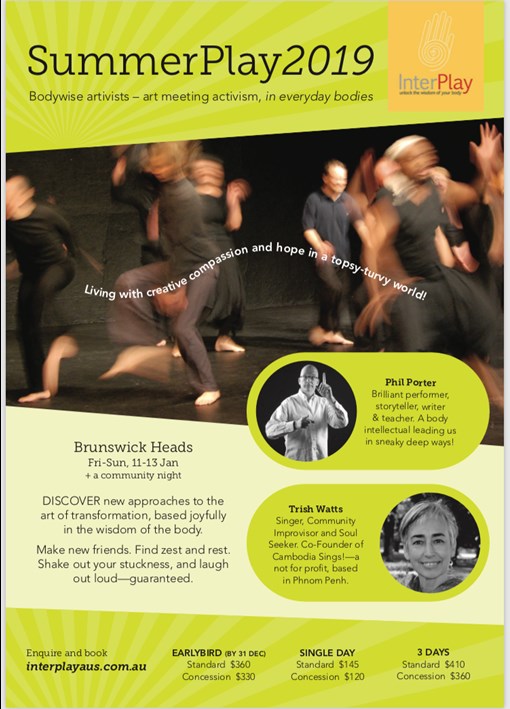 Body Wise Artivists!    
Art meeting activism, in everyday bodies
Living with creative compassion and hope in a topsy-turvy world!
Join InterPlay's international co-founder PHIL PORTER and InterPlay Australia's co‑founder TRISH WATTS for a weekend of reflecting, re‑energising and reimagining in community health and connection.
Discover new approaches to the art of transformation—personal and collective—based joyfully in the wisdom of the body.
InterPlay is an integrating and playful process that offers spice to the stirring pot of daily questions and issues. Above all, it brings more light, fun, understanding and beauty to the world we live in and love.
Make new friends. Find zest and rest.
Shake out your stuckness, and laugh out loud—guaranteed.
CONTACT:
Greer Dokmanovic greerdokmanovic@hotmail.com
For more information on Interplay Brunswick Heads please contact us via the Contact Us tab above.